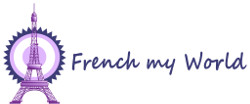 About us
Welcome to French My World, an online French grocery and gourmet food store based in Lyon, France, the world capital of gastronomy. Located in the center of France, we are perfectly situated between all the regional specialties.
What started as a small online store with only 15 products, French My World now proposes over 400 items sent directly from France to destinations all over the world. We constantly work on increasing our range of products to offer you all the best of French gastronomy. In addition to the classic French gastronomy, such as the famous Moutardes de Dijon, French My World also brings to you a wide variety of Health and Beauty products, such as the famous "Savons de Marseilles" and much more. Our goal is to deliver the best customer service with the most incredibly lowest shipping prices for all our products. We strive to integrate the French "art de vivre" straight to your home at a lower cost.
Co-owners Alexis and Joshua, a French and an American respectively, are devoted to your complete satisfaction. We are pleased to answer any of your questions or comments and are dedicated to accommodating your personal needs and requests for specific products. Please contact either of us at alexis@frenchmyworld.com or joshua@frenchmyworld.com. You can also contact us by clicking here.
Thank you for stopping by and once again, welcome to French My World!